Queens Unlicensed Weapon Defense Lawyer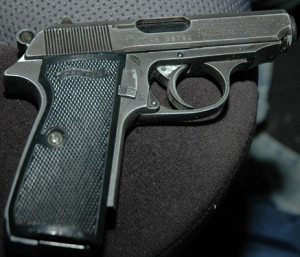 The district attorney's offices in the New York metropolitan area have decided to come down hard on people caught in possession of unlicensed weapons. If you get indicted on such a violent felony offense, the minimum jail time is 3 ½ years and the maximum is 15. Thus, the key is to avoid indictment. To do so, you need to hire an experienced Queens criminal defense lawyer immediately.
The Law Offices of Michael Dreishpoon has over 20 years experience in successfully representing New Yorkers facing weapons charges. Michael Dreishpoon personally will construct your legal defense by taking into consideration the following facts and circumstances:
Was the weapon operable?
If a firearm, was it loaded?
Did you have what's known as "temporary and lawful possession" of the weapon?
Was the weapon found on or near you?
The answer to these questions and many others will permit Michael Dreishpoon to craft the defense that's right for you.
Queens, New York Weapons Possession Laws
All handguns in the state of New York must be licensed and registered. If not, they are considered "illegal weapons." You don't even have to actually carry a weapon or firearm to be charged with possession in New York because the law recognizes two exceptions:
If the police find a weapon in an area that you maintain dominion and control over – e.g., the glove compartment of your car, your office desk or your book bag – then you can be considered to have constructive possession of it;
If the police find a weapon in your friend's apartment or vehicle and you are in it at the time, then you can be considered to have presumptive possession of it.
In these types of cases, where and how the police find the weapon are critical factors in determining whether the District Attorney's Office can successfully prosecute you. An illegal police search of your person, vehicle or residence can result in the suppression of the gun and, ultimately, the dismissal of the case!
Hire an Experienced Queens Weapons Possession Defense Lawyer
Queens defense lawyer Michael Dreishpoon has the experience, skill and knowledge needed to vigorously defend you against weapons charges. If you have been charged with possession of a weapon of any sort in the New York metropolitan area, contact Michael Dreishpoon immediately. Consultations are always free and fees are reasonable. Don't go to court unprepared. Discuss the facts of your case with an experienced Queens County criminal defense attorney today to plan an appropriate course of action.
Click here to email us or call 718-618-6771.
Types of Weapons Charges in NYC
The consequences for weapons charges can range from probation and fines to jail time and long-term prison sentences.
Having an experienced lawyer who understands New York City's weapons laws by your side will give you peace of mind knowing that you're getting knowledgeable guidance throughout your case.
What to Expect When Meeting with a Weapons Charges Lawyer in NYC
The initial consultation is a valuable opportunity for both parties to make sure they're the right fit.
During this time, the lawyer will need to gather as much information as possible about the case and explain their fees and payment plans.
Be honest and up-front with your lawyer so they can effectively prepare a defense on your behalf.
The Role of a Weapons Charges Lawyer in NYC
A weapons charges lawyer plays a critical role in helping their clients understand the legal process and get the best possible outcome.
They will provide dedicated representation and guidance throughout the entire process from start to finish, build a defense strategy, and negotiate on your behalf.
They have extensive knowledge of criminal law and access to resources such as expert witnesses to support your case.
Most Popular Pages:
Can domestic violence charges be dropped